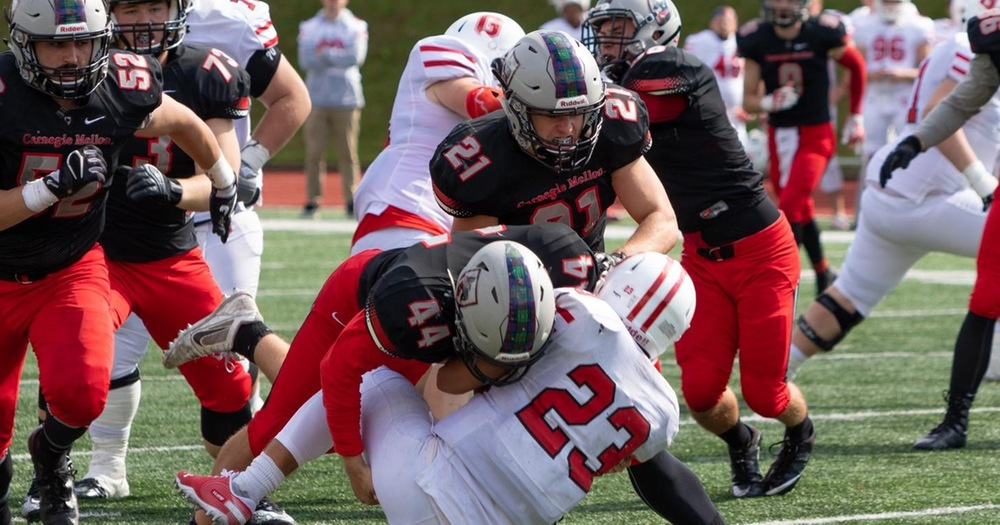 (GREENVILLE, Pa.) – The Carnegie Mellon University football team traveled to Greenville, Pennsylvania on Saturday and walked away with a 41-7 victory over the Tomcats of Thiel College. Carnegie Mellon is now 4-3 overall and even its mark in Presidents' Athletic Conference (PAC) play at 3-3. Thiel moves to 0-8, 0-6.
Senior linebacker Quinn Zsido (New Windsor, N.Y./Cornwall Central) led a defense that held the Tomcats to 277 yards of total offense including 77 yards passing. Zsido recorded a career-high 13 tackles including 10 solo. Junior Quinn Gaughan (Elmhurst, Ill./York Community) recorded 10 solo tackles marking his second straight game with double-digit solo tackles.
The Cardinal and Gray defense recorded three interceptions on the afternoon marking the first time with three or more picks in a contest since the 2015 season.
Carnegie Mellon had 452 yards of total offense with 274 coming by way of the ground attack. Senior Rory Hubbard (Rolling Hills Estates, Calif./Palos Verdes Peninsula) recorded his second career 100-yard game with 133 yards on 20 carries for an average of 6.7 yards per carry. The senior back also scored two touchdowns. Senior quarterback Alex Cline (Dublin, Ohio/Dublin Jerome) threw for 157 yards on 13-of-16 passing and a touchdown. Senior Karl Kumm (Brick, N.J./Brick Township) led the Tartan receivers with six catches for 71 yards and a score. Freshman Kris Hughes (Springboro, Ohio/Springboro) finished with five catches for 52 yards.
The Tartans took the opening possession of the game and marched 70 yards to take a 7-0 lead. Hubbard scored on a 3-yard run on the ninth-play of the drive.
Junior Thomas Polutchko (Southborough, Mass./Algonquin Regional) doubled the Tartans lead with a 70-yard interception return for a touchdown on the ensuing possession. The junior picked off Damon Smith on the 10th-play of the Tomcats drive and sprinted down the sideline to give the visitor's a 14-0 lead with 6:20 left in the first quarter.
With just under a minute to play in the first quarter, Smith found Devin Turner on a 36-yard touchdown strike. The point after attempt made the score 14-7.
Carnegie Mellon wasted little time to push its lead back to 14, as Cline and Kumm connected on a five-yard touchdown with 13:26 showing on the clock in the first half to make the score 21-7. The score was setup with a 37-yard run by Hubbard the play prior.
The Cardinal and Gray extended the lead to 31-7 before the half came to a close. With four minutes to play, Hubbard found the end zone for his second score of the half on a 2-yard run. As time expired, freshman placekicker Brandon Nguyen (Maitland, Fla./Lake Highland Preparatory) split the uprights from 34 yards away to give Carnegie Mellon a 24-point halftime advantage.
Freshman Sean Knight's (New Canaan, Conn./New Canaan) interception on the Thiel 1-yard line led to a Tartans' 99-yard, 12-play drive that resulted in another score for the Tartans. This time, Cline called his own number and snuck it in from 1-yard out to make the score 38-7 with four minutes to play in the third quarter.
A 33-yard field goal by Nguyen at the 11-minute mark of the fourth quarter closed the scoring at 41-7.
Carnegie Mellon will return to the gridiron on Saturday, October 27 when Geneva heads to Pittsburgh for a 1:00 p.m. kick.