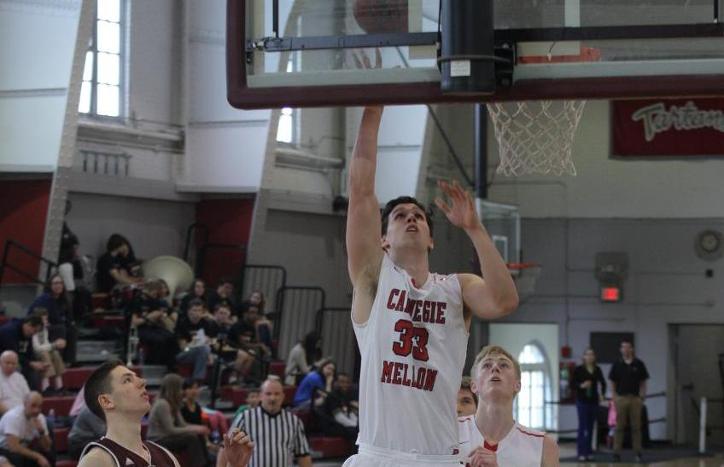 (PITTSBURGH, Pa.) - The Carnegie Mellon University men's basketball team continued University Athletic Association (UAA) play and turned in a stellar defensive outing in a 73-48 victory over visiting University of Chicago. The Tartans recorded a season-high 11 blocks while improving to 12-8 and 3-6 in UAA play. Chicago moves to 14-6, 6-3.

The first 11 minutes of play saw nine lead changes with the last falling into the hands of the Tartans when sophomore Chris Shkil's (Mentor, Ohio/Notre Dame-Cathedral Latin) layup started a run of 14 straight points for the home team and gave Carnegie Mellon a 31-18 edge. During the run, four different Tartans found the hoop with Shkil scoring six.

Carnegie Mellon took a 36-21 lead into the locker room following a three-pointer by senior Seth Cordts (Amherst, N.H./Souhegan) in the closing seconds of the half. The Tartans shot 53.6% from the floor in the first frame including a 4-of-9 showing from behind the arc while the Maroons shot 27.3% and were 2-of-11 from long range.

The Tartans led 49-31 early in the second half before Chicago went on a 10-3 spirt and cut the deficit to 52-41 with 11:33 to play. That was as close as the visitors got, as Carnegie Mellon used a 17-4 run over the next eight minutes and went on to the 73-48 victory.

For the fourth time this season, Carnegie Mellon shot over 50% from the floor, and remained perfect when doing so, as the Tartans shot 53.7% to the Maroons 31.1%. The Tartans outrebounded the Maroons 37-31 and now 11 of their wins this season have come when holding the rebound edge.

Cordts led all scorers with 28 points and tied a season-high with eight rebounds. Sophomore Jack Serbin (New Albany, Ohio) ended with 17 points and three blocks while Shkil tabbed his third straight game in double figures, as the sophomore finished with 13 points. Shkil also tied a career-high with five blocks.

Chicago was led by Jordan Smith with 15 points and Alex Voss with 10.

Carnegie Mellon will travel to Brandeis University on Friday, February 13 for an 8:00 p.m. tip against the Judges.