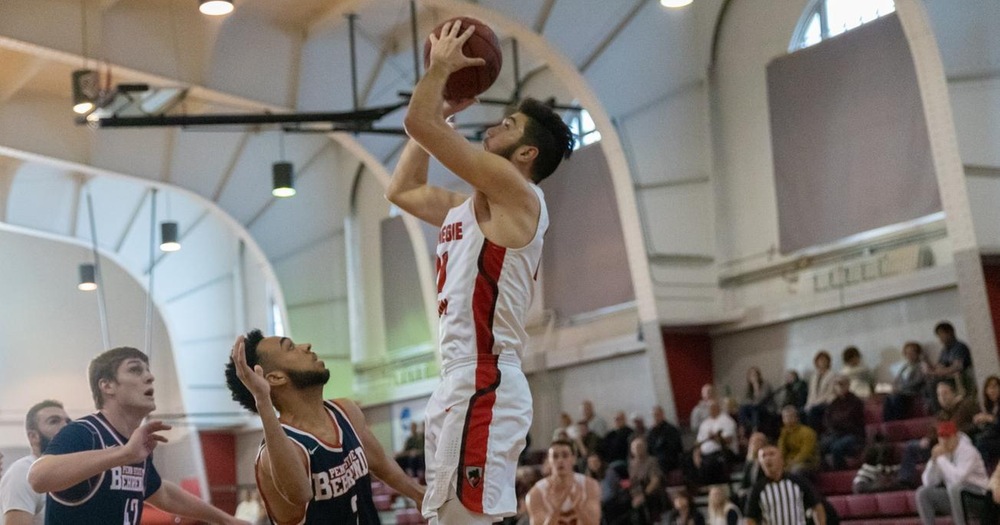 (PITTSBURGH, Pa.) - Senior Zach Howarth (Freehold, N.J./St. John Vianney) becomes the 20th Carnegie Mellon University men's basketball player to score 1,000 points as a Tartan after pouring in 16 points in an 87-70 win over visiting Washington & Jefferson College on Thursday. Howarth now has 1,011 career points. The win moves the Tartans overall mark to 6-2 while W&J is now 7-4.
Carnegie Mellon shot 52.5 % (31-59) from the floor and now has won all four games this season when shooting over 50%. The Tartans also converted 11-of-23 (42.6%) from long range. W&J ended the day shooting 42.6% from the field while only managing shooting 26.1% (6-23) from behind the arc.
For the fourth time this season, the Tartans had five players score in double figures. Junior Daniel Weiss (Marlboro, N.J.) led the Tartans with a career-high 20 points on 7-of-10 shooting, including 3-of-5 from behind the arc. Junior Ethan Miller (King of Prussia, Pa./Upper Merion) matched Howarth's 16 points, as the junior also converted 7-of-10 from the field and 2-of-4 from long range. Senior Trent Suddeth (Winter Park, Fla./Trinity Prep) and freshman Nick Nakasian (Powell, Ohio/Olentangy Liberty) each added 11 points. Senior Colin McNeil (Ringoes, N.J./Hunterdon Central Regional), the nation's leader in assists, handed out 11 in the win. It mark McNeil's fourth double-digit assist outing of the season.
Carnegie Mellon used a 13-2 run over a span of four minutes midway through the first half, which gave the home team a 27-13 lead with 9:13 to play. The Tartans largest lead of the first twenty minutes came on a pull-up fast break trey by Weis with 1:26 left in the half that made the score 45-27.
The second half saw the Tartans maintain a double-digit lead the entire time while matching the largest lead of the game of 20 points on three different occasions. The last, came on a made free throw by Suddeth with 7:17 showing on the clock to give the home team a 71-51 lead before going on for the 17-point victory.
The Tartans return to the hardwood on Saturday, December 21 with a 2:00 p.m. against the Cougars of Chatham University.