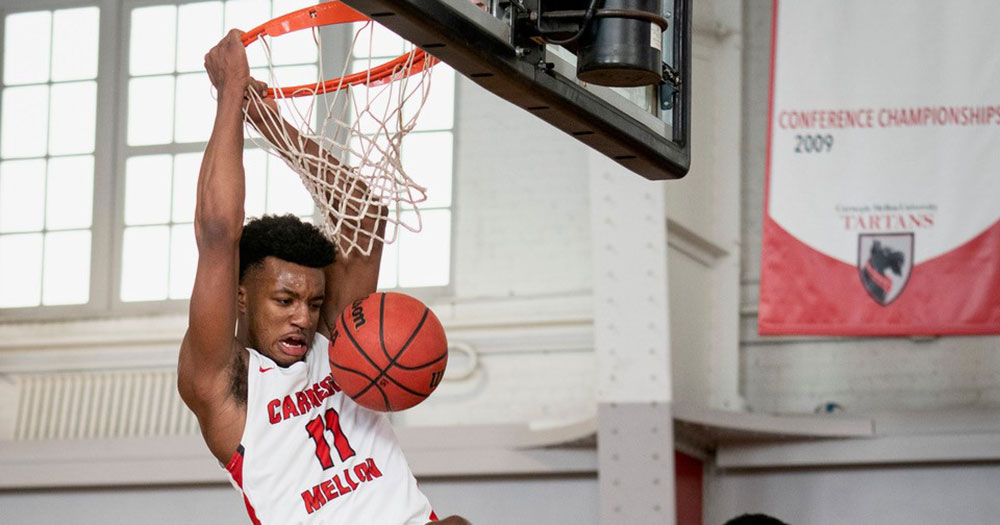 (PITTSBURGH, Pa.) – The Carnegie Mellon University men's basketball team returned to the court for the first time since last February and defeated the Bobcats of Pitt-Greensburg Saturday, 107-100, in overtime. The exhibition contest was played on the hardwood of Skibo Gymnasium and saw a driving layup by senior Zach Watson (Dublin, Ohio / Jerome) as time expired in regulation fall through the net to send the contest to overtime.
The Tartans shot 53.4% from the floor for the game, including 56.7 in the second half, while the Bobcats shot 46.5%. Nine of the Tartans 19 overtime points came from the foul line while both teams shot well from the stripe with Carnegie Mellon shooting 81.5% (22-27) and Pitt Greensburg 80.0% (20-25).
Six players scored in double figure for the Cardinal and Gray with freshman R.J. Holmes (Buffalo Grove, Ill. / Adlai Stevenson) leading the way with 21 points after converting 9-of-12 from the floor. Watson shot 8-of-9 from the floor and ended the game with 20 points and handed out nine assists.
Sophomores Nick Nakasian (Powell, Ohio/Olentangy Liberty) and Sean Oberman (Flemington, N.J./Hunterdon Central) each had 16 points with classmates Josh Berry (Western Springs, Ill./Lyons Township) and Kevin Sax (Highlands Ranch, Colo./Thunder Ridge) adding 11 and 10 points, respectively.
The Tartans held a 43-34 edge on the glass with Nakasian hauling down 11 to record a double-double. Holmes fell one board shy of a double-double after grabbing nine rebounds.
Pitt-Greensburg used a 14-2 run midway through the second half to take a 66-61 advantage. The Bobcats lead grew to 86-77 with 3:14 to play, but the Tartans didn't go away as they ended regulation on an 11-2 run to send the contest into overtime.
A minute into the extra frame, Nakasian converted the traditional three-point play to give the Tartans a 93-90 lead. On the ensuing possession Pitt-Greenburg's William Butler drained a triple from the top of the arc to knot the score at 93-93. Carnegie Mellon answered on its next trip down the court when Oberman connected on a triple of his own to give the lead back to the home team and the Tartans never looked back.
Carnegie Mellon will be back in action on Sunday, March 21 in an exhibition contest at Pitt-Greensburg. Tip is slated for 2:00 p.m.