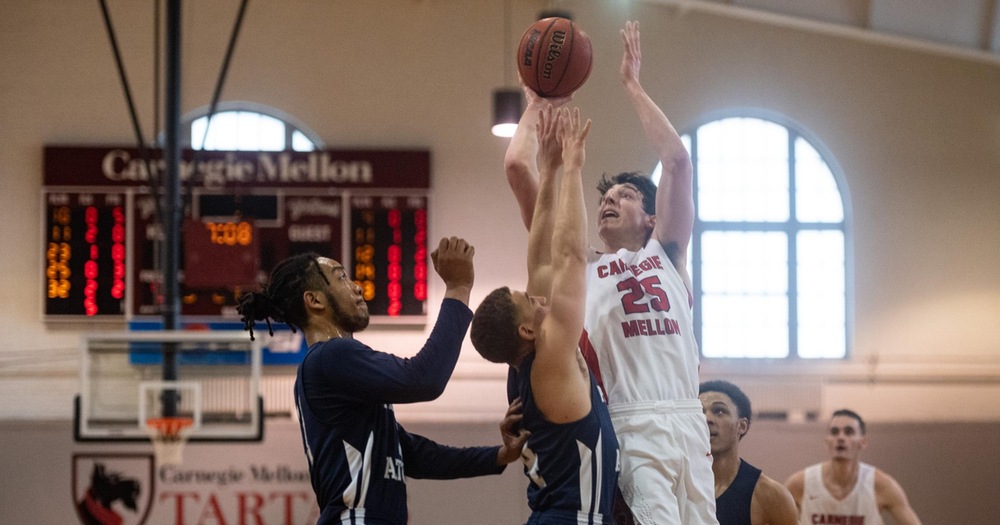 (PITTSBURGH, Pa.) – The Carnegie Mellon University men's basketball team hosted the Lions of Penn State-Altoona Wednesday afternoon at Skibo Gymnasium. All 12 Tartans that played scored, as the Cardinal and Gray defeated the Lions 89-54.
Carnegie Mellon shot 48.7% from the floor and held Penn State-Altoona to 37.3%. In the second half the Tartans converted 20-of-39 from the floor for 51.3%. The home team dominated the glass hauling down 55 rebounds to the Lions 25, as Carnegie Mellon turned 20 offensive rebounds into 30 second chance points.
Sophomore Nick Nakasian (Powell, Ohio/Olentangy Liberty) led the Tartans with 14 points followed by classmate Kevin Sax (Highlands Ranch, Colo./Thunder Ridge) with 12 and senior Joey Krempa (Linden, N.J./Linden) with 11. Freshman R.J. Holmes (Buffalo Grove, Ill. / Adlai Stevenson) led all players with 13 rebounds while Sax added nine and Nakasian along with senior Ethan Miller (King of Prussia, Pa./Upper Merion) both tallied eight.
Carnegie Mellon opened the contest scoring the first seven points over the first two-and-a-half minutes of action. With the Tartans 19-10 with seven minutes to play, they closed the half on a 24-8 run to take a 43-18 into the break. The Tartans continued to control the game in the second frame and at 3:23 left on the clock a Miller layup gave them the largest lead of the game at 85-44.
Carnegie Mellon will travel to Penn State-Altoona on Friday for a 7:00 p.m. tip.