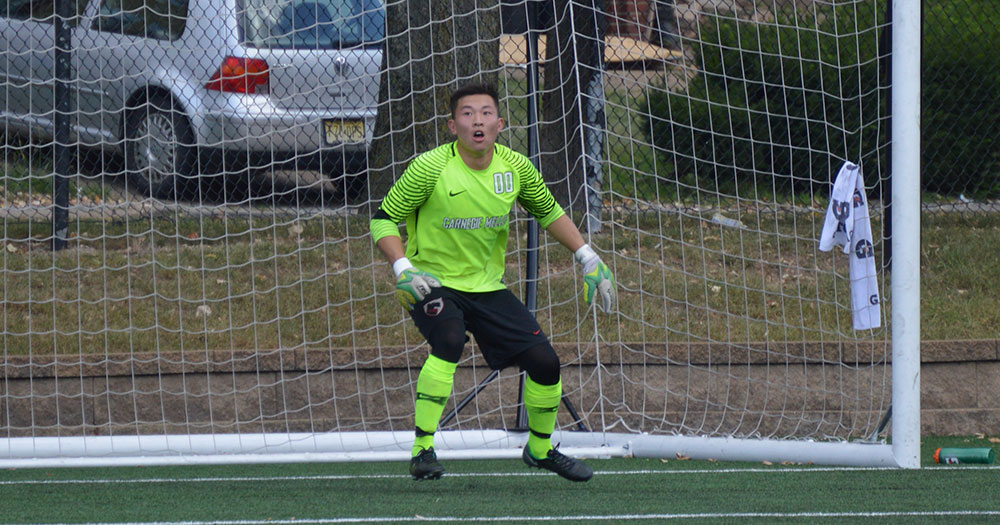 (GAMBIER, Ohio) - The 11th-ranked Carnegie Mellon University men's soccer team advanced to the second round of the 2018 NCAA Division III Men's Soccer Championship on Saturday, November 10 after topping Centre College in a PK shootout following a 0-0 draw. The match was played at Kenyon College and puts the Tartans overall mark at 11-4-3.
The Tartans converted all four of the penalty kicks they took in the shootout as the Colonels missed their second and fourth attempts. Senior goalkeeper Alec Lam (Upper Saddle River, N.J. / Northern Highlands Regional) was responsible for those misses, as he stopped both attempts. The final shot was taken by junior Elliot Cohen (Solana Beach, Calif. / Canyon Crest Academy), sending the Tartans into celebration.
During regulation, the Tartans recorded four shots on goal, with three coming in the opening five minutes. As the second half ended with no score, the Tartans registered the first shot of extra time. Junior Cooper Tubiana's (Montclair, N.J. / Montclair) shot was stopped by Centre's keeper, Bailey Spade, in the 94th minute. Fellow junior Nicolas Poveda (Miami, Fla. / Coral Gables) had a shot stoppd by Spade in the 98th minute before Lam made a save in the 99th minute.
The final overtime period was controlled offensively by the Tartans, as the took seven shots with two on goal and one hitting the crossbar. The shot hitting the crossbar came off the foot of sophomore Jordi Long (Silver Spring, Md. / Montgomery Blair) following a corner kick by senior Anthony Gulli (Warrenville, Ill. / St. Joseph) in the last seconds of the 103rd minute.
The victory for the Tartans is the second under head coach Brandon Bowman in the first round of the NCAA tournament. The Tartans will next face 10th-ranked Kenyon College on Sunday at 1:00 p.m. on the Lords' home field. Previously this year, the two teams met in Pittsburgh with the result a 1-1 draw.