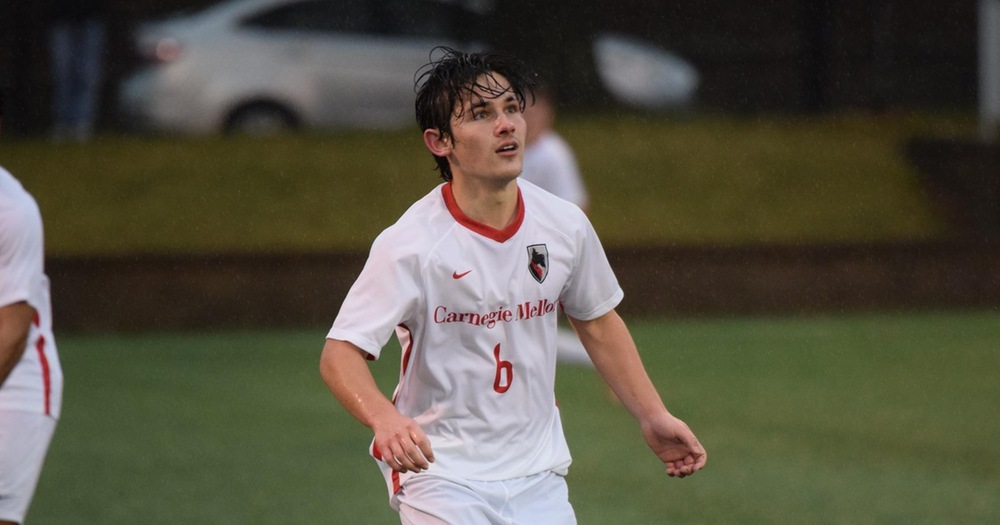 (PITTSBURGH, Pa.) - The Carnegie Mellon University men's soccer team began spring action with a 3-2 victory against Saint Vincent College on Thursday, March 18 at home. The Tartans surrendered an early goal and twice tied it before scoring the game winner in the last 10 minutes of the first half.
Miscommunication between a defender and the Tartan keeper went down as an own goal in the first 18 seconds of the game. The Tartans would regain possession and equalize on a strike by freshman William Rabon (Grand Rapids, Mich. / International Academy) not even two minutes later. Rabon received a ball in the center of the field just about 30 yards fromthe goal off a pass from the left by sophomore Mason Shockley (Morgantown, W.Va. / University). Rabon took a touch forward and one around a defender and fired a shot passed the keeper to knot the game at 1-1.
Saint Vincent would go ahead again when Bradley Bair put in a rebound following a save by freshman Stefan Sorobay (New York, N.Y. / Stuyvesant) off a low driven shot by Frank Singer in the 29th minute.
Again, the Tartans would move the ball forward and equalized when junior Jason Edmunds (Libertyville, Ill. / Libertyville) received a ball over the defense off a service by sophomore Dante Mancini (Lake Forest, Ill. / Lake Forest) in the late second of the 34th minute. Edmunds settled the pass and had just the keeper to beat with a low shot through his legs at the near post.
A minute later, sophomore Josh Baugh (Boynton Beach, Fla. / Boca Prep) scored what stood as the game winner when sophomore Chris Roberts (West Chester, Pa. / Henderson) played a ball into the box from the left side. Baugh rushed the net and met the ball for a volley and his second career goal.
Junior Ethan Kalis (Riverwoods, Ill. / Adlai E. Stevenson) earned the victory in goal for the Tartans while not having to make any saves in 30 minutes of action. Senior Alex Singh (Golden, Colo. / Lakewood) saw 27 minutes of action in goal and also did not need to make a save.
The Tartans will return to action on Sunday, March 21 at 2:00 p.m. when they host Division II Slippery Rock University.