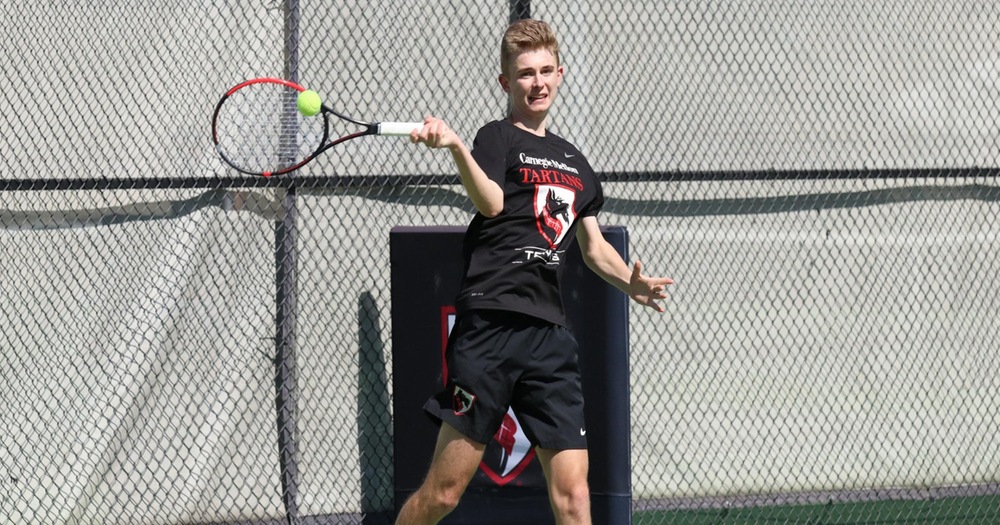 (GROVE CITY, Pa.) - The 15th-ranked Carnegie Mellon University men's tennis team traveled to Grove City College on Saturday and defeated the Wolverines 9-0. The win marked the Tartans third straight and runs their record to 5-1.
The freshmen tandem of Arjan Bedi (Pittsburgh, Pa. / Sewickley Academy) and Jaden D'Abreo (Portland, Ore. / Jesuit) recorded the first point for the Tartans with an 8-0 win at third doubles. The Tartans second pair of sophomore Matthew Poh (Manhattan Beach, Calif. / Mira Costa) and freshman Michael Fourchy (Fresno, Calif. / Clovis North) made the score 2-0 with an 8-3 win before sophomore Jonathan Nottingham (Philadelphia, Pa. / Masterman High School) and freshman Derek Wong (La Jolla, Calif. / Francis Parker) completed the sweep for the Tartans with an 8-6 win at the top spot.
Fourchy and Wong won by straight sets in singles play to solidify the win for the Cardinal and Gray. Fourchy won 6-0, 6-0 at the sixth spot proceeded by Wong winning 6-1, 6-0 at third.
The Tartans will host Division I Saint Joseph's University on Friday, April 2.