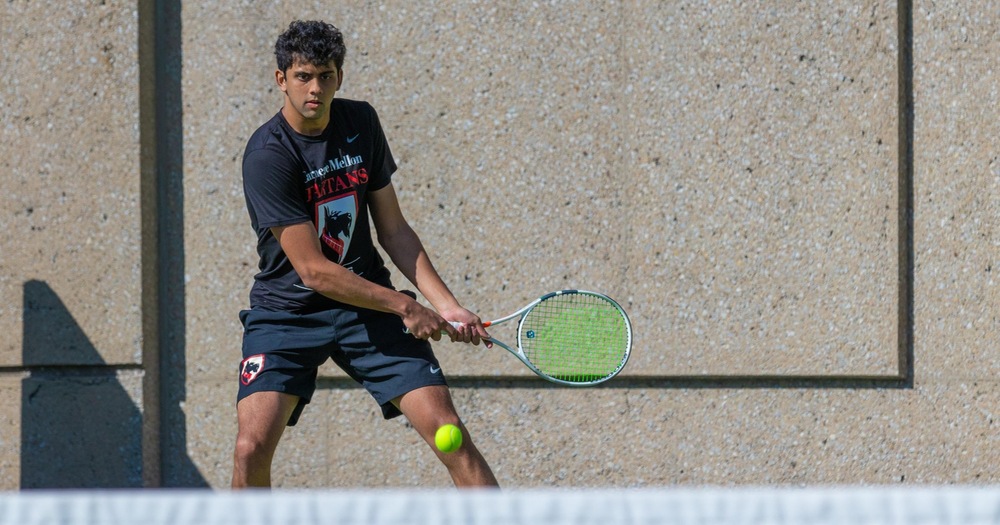 (PITTSBURGH, Pa.) - The Carnegie Mellon University men's tennis team, ranked 15th in Division III, dropped a home contest to Division I Duquesne Univesity by a 7-2 score on Saturday, April 17. The Tartans are now 7-2 and will complete their season against Division III opponents.
The Tartans trailed 2-1 after doubles play with the number one pair of sophomore Jonathan Nottingham (Philadelphia, Pa. / Masterman High School) and freshman Jaden D'Abreo (Portland, Ore. / Jesuit) winning 8-7 (8-6) against senior Alejandro Rodriguez-Vidal and freshman Tamirlan Teberikov. The match signaled the first pairing for Nottingham and D'Abreo this season and D'Abreo now has a record of 5-0 in doubles with four different partners.
D'Abreo also won his singles match by a 2-6, 6-2, 6-4 score against senior Joey Matthews in the sixth slot to move his singles record to 4-1.
"Duquesne played better than us today and it was an eye-opening loss for our young team," said head coach Mike Belmonte. "We have a lot to learn still and are eager to get back on the court in practice this week. We will need to be much better from top to bottom in order to compete with Denison [University] next weekend."
The Tartans will host Denison on Saturday, April 24 at 1:00 p.m. and then host Kenyon College on Saturday, May 1 at 1:00 p.m.