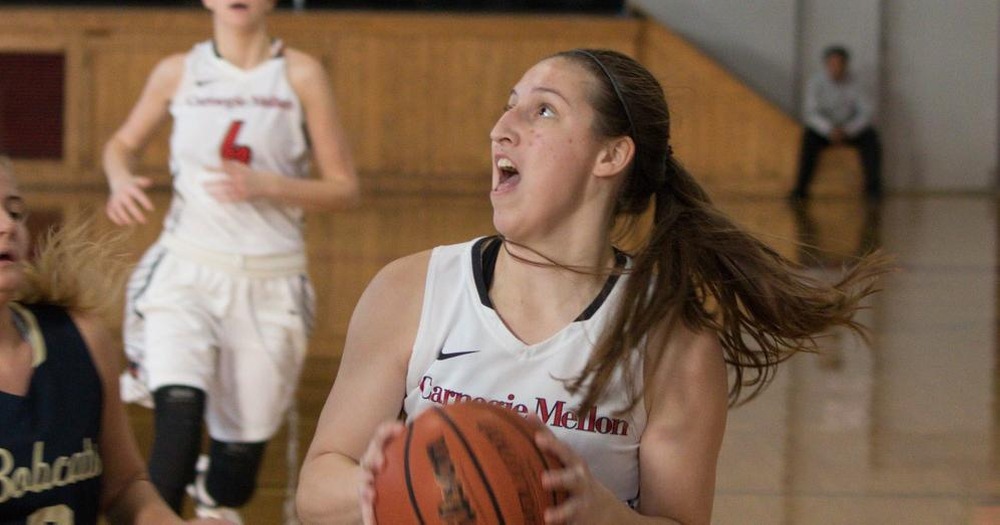 (MEADVILLE, Pa.) - The Carnegie Mellon University women's basketball team topped Allegheny College, 62-42, on the road Tuesday evening with two players scoring in double figures. The Tartans are now 1-3 for the year while the Gators have an even record at 2-2.
A balanced scoring effort by the Tartans saw senior Katie Higgins (Montclair, N.J. / Montclair) and sophomore Leah Weslock (Howell, Mich. / Howell) each score 11 points, while senior Laurel Pereira (Naperville, Ill. / Naperville North) and sophomore Caitlyn Clendenin (Bethesda, Md. / Bethesda Chevy Chase) each scored eight points. Clendenin was two points shy of her second double-double of the season, as she hauled in a game-high 11 rebounds. The sophomore also led all players with four assists. The Tartans collected a season-best 18 steals with Weslock leading with five.
The Tartans shot a season-best 42.9% from the floor while holding the Gators to 25.5%.
Carnegie Mellon led the entire first quarter until Zoe Youdell made two free throws with a minute to go for a 15-14 lead. The Tartans led by as many as nine after scoring on back-to-back possessions to make it 12-3 with 5:58 showing on the first quarter clock.
Allegheny held a brief two-point lead, 20-18, in the second quarter before a jumper by Higgins started a13-point run to close the final 3:33 of the half to give the Tartans a 31-20 advantage.
The Gators pulled to within five points in the third quarter prompting a timeout by the Tartans. The Gators would score just one point after that timeout with 4:16 to play in the quarter and the Cardinal and Gray would take a 12-point lead, 44-32, into the final 10 minutes of action.
The Tartans kept the double-digit lead for all but 30 seconds the remainder of the game.
Carnegie Mellon will host its first game of the season when the College of Wooster visits Skibo Gym on Thursday, November 21 at 7:00 p.m.