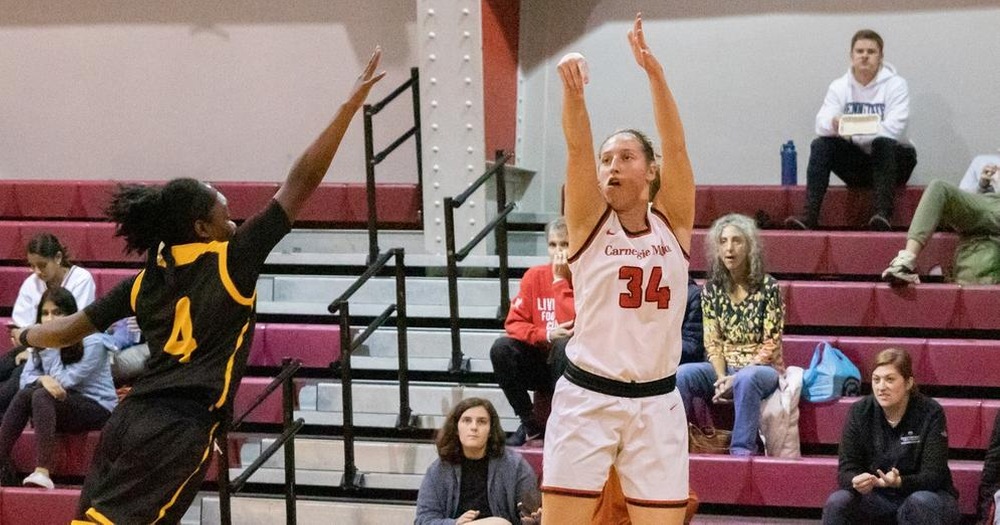 (PITTSBURGH, Pa.) - The Carnegie Mellon University women's basketball team won its fourth straight contest, visiting Pittsburgh neighbor La Roche University and leaving with a 57-47 victory. The Tartans are now 4-3 overall while the Redhawks drop to 1-4.
Sophomore Leah Weslock (Howell, Mich. / Howell) scored a game-high 20 points on 7-of-10 shooting from the floor to lead the Tartans for the game and the season. Senior Makayla Filiere (Chandler, Ariz. / Hamilton) chipped in 13 points while sophomore Caitlyn Clendenin (Bethesda, Md. / Bethesda Chevy Chase) scored 11 points and grabbed nine rebounds.
The Tartans shot a season-best 52.3% from the floor for the game and dished out 17 assists.
The Redhawks led 11-2 halfway through the first period and 19-11 at the first break when Dasha Jackson scored a layup as time expired.
Only 11 points total were scored in the second period with the Redhawks clinging to a 22-19 advantage.
The Tartans took their first lead since the first bucket of the game at 28-27 on a jumper by Clendenin with 5:57 to go in the third quarter. The lead would changes hands three times with La Roche again holding the lead, 38-35, at the break.
Weslock went to work in the final period, scoring 15 of her points in the frame, while the Tartans took care of the ball with only three turnovers (23 total for the game) and shot 61.5% to outscore the host team 22-9 over the closing 10 minutes.
Filiere finished with four assists and four steals and now has 223 steals for her career which is third all-time for the Tartans.
Carnegie Mellon will next host the University of Mount Union on Tuesday, December 17 at 2:00 p.m.