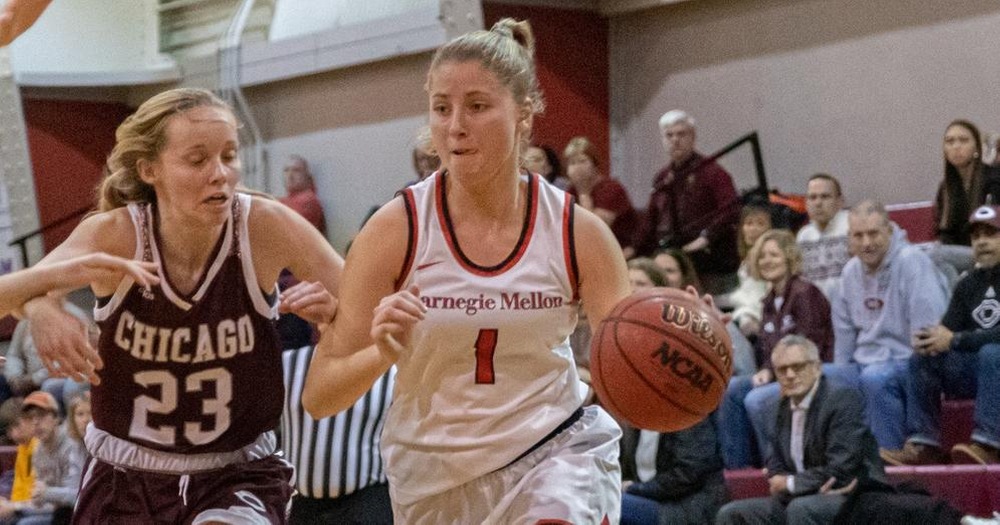 (ATLANTA, Ga.) – The Carnegie Mellon University women's basketball team traveled to 25th-ranked Emory University for a Friday evening University Athletic Association (UAA) contest, falling to the Eagles 55-43. The Tartans are now 7-8 overall and 0-4 in the UAA while Emory moves to 13-2 and 4-0.
Sophomore Caitlyn Clendenin (Bethesda, Md. / Bethesda Chevy Chase) led the Tartans with 11 points while senior Megan Jaeb (San Jose, Calif. / Presentation) had nine points off the bench. Sophomore Emily Archer (Chatham, N.J. / Oak Knoll) scored seven points and grabbed a team-high seven rebounds.
A slow start to the game had Emory leading 6-0 with five minutes gone by. With 1:21 to go in the quarter, the Tartans trailed 8-7 after Jaeb drove the lane and converted the basket and free throw following a foul by the Eagles.
The Eagles pushed the lead back to four but held a slim 11-9 lead at the end of the period after senior Cameron Pitts (Frederick, Md. / Oakdale) scored on a hook shot in the lane as time expired.
The first three-pointer of the game for the Eagles gave them an 18-13 lead before the Tartans used a 7-0 run to lead for the first time in the game following a pair of free throws by Clendenin with 4:31 to play in the half. Back-to-back triples by Molly Weiss pushed the Eagles back ahead 24-20 before the final bucket of the half was scored by the Eagles' Tori Huggins on the baseline with 2:30 to go.
Long range shots were the story of the third period, as Emory hit three in a row with two as the shot clock expired to help build a 14-point advantage. The Tartans shot 50.0% from the floor in the period but took eight less shots than the Eagles who grabbed six offensive boards in the frame.
A bucket and free throw by Archer a minute into the final period pulled the Tartans within eight points but the Tartans would only make one other basket the rest of the way and the Eagles went on for the double-digit victory.
The Eagles were led by Weiss's 15 points and Huggins's 10 points and 14 rebounds. The Eagles also grabbed 43 rebounds, 20 offensive, to 32 total for the Tartans.
The Tartans will next visit the University of Rochester on Sunday, January 26 for a 2:00 p.m. contest.