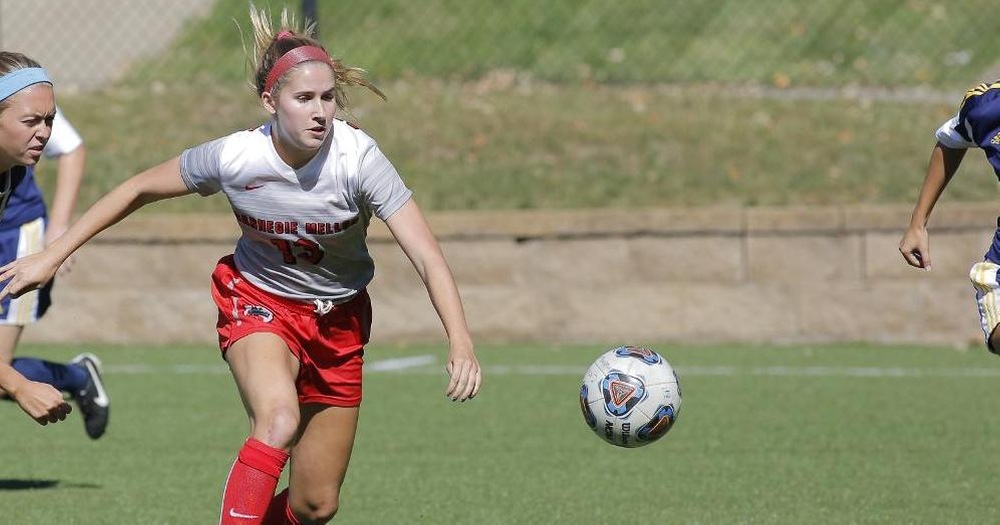 (PITTSBURGH, Pa.) - Junior Ryan Casey (Marina del Rey, Calif. / Polytechnic) scored twice for the 10th-ranked Carnegie Mellon University women's soccer team in Friday evening's 4-0 victory at home against Washington and Jefferson College. The Tartans are now 5-1-1 for the season while the Presidents dropped to 2-4-1.
Casey opened the scoring one minute and 59 seconds into the match. After receiving a pass from freshman Maddie Cech (Cincinnati, Ohio / Indian Hill) as she ran into the 18-yard box, Casey dribbled around a few defenders and deposited a shot to the far post past Shayla Watkins in goal for the Presidents.
In the 21st minute, junior Sydney Webber (Nashville, Tenn. / Harpeth Hall) fired a corner kick to the far post where senior Emily Tolmer (Bridgeville, Pa. / Chartiers Valley) headed in the pass for her second strike of the season.
Watkins made five saves in the first half against the Tartans before the home squad added to the scoreline in the final 45 minutes.
Casey struck again in the 58th minute after once again dribbling around a few defenders, this time receiving a pass from sophomore Abby Kuznick (Livingston, N.J. / Livingston).
Kuznick scored the final goal for the Tartans in the 66th minute. The sophomore received a pass from senior Kaily Bruch (Glenview, Ill. / Glenbrook South) and took two touches before placing the ball in the back of the net for her first career score.
Sophomore Carolyn Botz (St. Louis, Mo. / MICDS) and junior Andrea Sipos (Bel Air, Md. / Bel Air) split time in net for the Tartans with Botz earning the victory.
The Tartans will next travel to Westminster College on Monday, September 24 for a 5:00 p.m. contest.