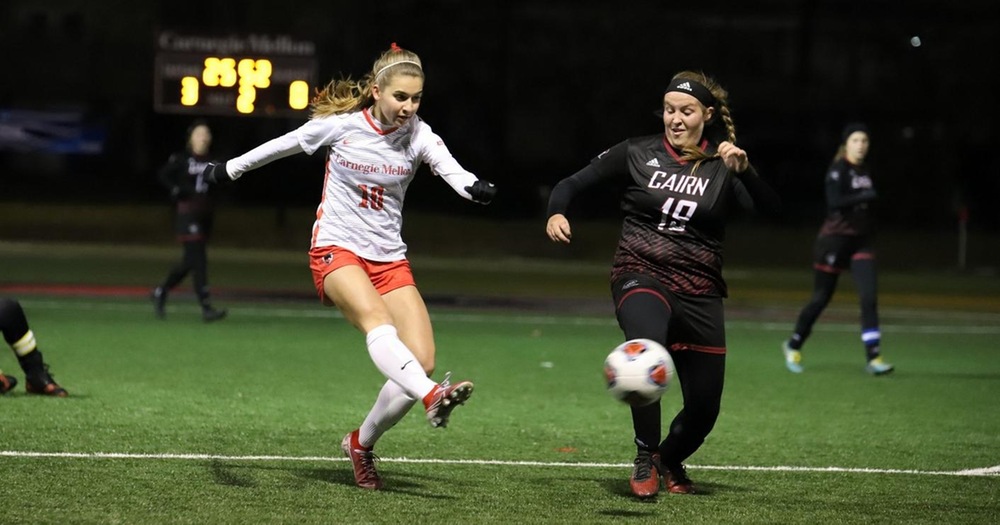 (PITTSBURGH, Pa.) - The 25th-ranked Carnegie Mellon University women's soccer team defeated Cairn University, 7-0, in the first round of the 2019 NCAA Division III Women's Soccer Championship at home on Saturday evening. Freshman Helena Spencer (Warrenton, Va. / Patriot), freshman Alex Adams (Pittsburgh, Pa. / North Allegheny), and sophomore Stephanie Ramsay (Lake Forest, Ill. / Loyola Academy) each tallied two goals in the win to advance to 12-5-1 for the season.
Spencer started the scoring in the 15th minute when she beat a defender to a pass inside the box by Adams and one-timed a shot from six yards. The goal was her fifth of the season.
Adams scored her freshman record 12th goal of the season in the 36th minute when she followed a shot off the crossbar by junior Taylor Cammarata (Cary, N.C. / Green Hope). Adams also beat a defender to the ball and finished into the open net.
The Tartans scored five in the second half with Adams finishing the first one in the 63rd minute. She fired in a shot from inside the six-yard box after seniors Tara Durstewitz (Old Bridge, N.J. / Old Bridge) and Camille Williams (Cincinnati, Ohio / The Seven Hills School) combined on the attack with Williams sending the final pass into the center of the box from just outside the 18-yard box on the right side of the field.
A little more than two minutes later Spencer knocked in her second goal of the game. After a shot by Spencer hit the crossbar, Adams got her head on it before the keeper could corral it, and Spencer calmly finished it in the open net. Freshman defender Rachel Legg (Kansas City, Mo. / Pembroke) scored her first goal of the season when she connected on a corner kick sent to the back post by Durstewitz in the 70th minute.
The final two goals were scored by Ramsay with sophomore Daisy Gollis (Irvine, Calif. / Tarbut V'Torah) and freshman Ashley Hong (Ashburn, Va. / Broad Run) earning the assists. Gollis put a pass through two defenders with Ramsay finishing the first shot with her left foot to the right corner. The second play was a long through ball by Hong with Ramsay racing around a defender to get off a right-footed shot before the charging keeper could stop it. The goals came a minute apart with less than four minutes to play.
Senior Andrea Sipos (Bel Air, Md. / Bel Air) earned the win in goal making two saves before junior Carolyn Botz (St. Louis, Mo. / MICDS) relieved her in the second period.
The Tartans advance to the second round of the NCAA Tournament for the fifth time under head coach Yon Struble and will face Swarthmore College (13-5) on Sunday, November 17 at 7:00 p.m. Swarthmore defeated 15th-ranked Arcadia University 1-0 in overtime to advance to the second round game.