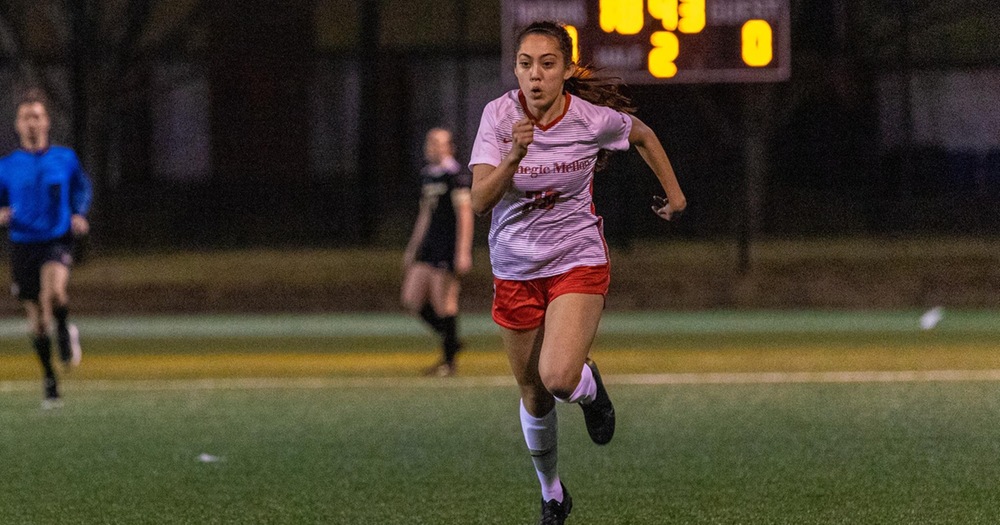 (PITTSBURGH, Pa.) - The Carnegie Mellon University women's soccer team hosted Division II Slippery Rock University on Friday, March 12 for its second game of the season after its opener on Thursday against Franciscan. The Rock was able to hold on for a 2-1 win in a game the Tartans dominated possession and scoring opportunities.
The Rock got on the board first in the second minute of the game via a penalty kick by sophomore Ashley Rea.
The Tartans then controlled the ball for the majority of the half and took eight shots to just one more by Slippery Rock. Sophomore defender Rachel Legg (Kansas City, Mo. / Pembroke) had a shot attempt saved in the seventh minute for the Tartans lone shot on goal for the half.
Four shots by the Tartans in the second half were saved by sophomore Alaina Mihalik before The Rock attempted their first shot of the half. In the 69th minute, sophomore Kayla Swope was able to take advantage of a defensive miscue by the Tartans and slot a shot past senior Carolyn Botz (St. Louis, Mo. / MICDS) for a 2-0 lead.
With 11 minutes to go in the game, freshman Erin Magid (Ranch Palos Verdes, Calif. / Palos Verdes) volleyed a shot off a header clearance by a defender for her first career score to make it 2-1.
Three minutes later, freshman Cecelia Dieterich (South Paris, Maine / Oxford) nearly scored the equalizer but her shot was just high of the crossbar. Similarly, Magid had another opportunity in the 88th minute but it too was just high.
For the game, the Tartans outshot The Rock, 17-7, with eight corner kicks to two for the visiting team.
Next up for the Tartans is a road contest against Grove City University on Thursday, March 25 at 7:00 p.m.