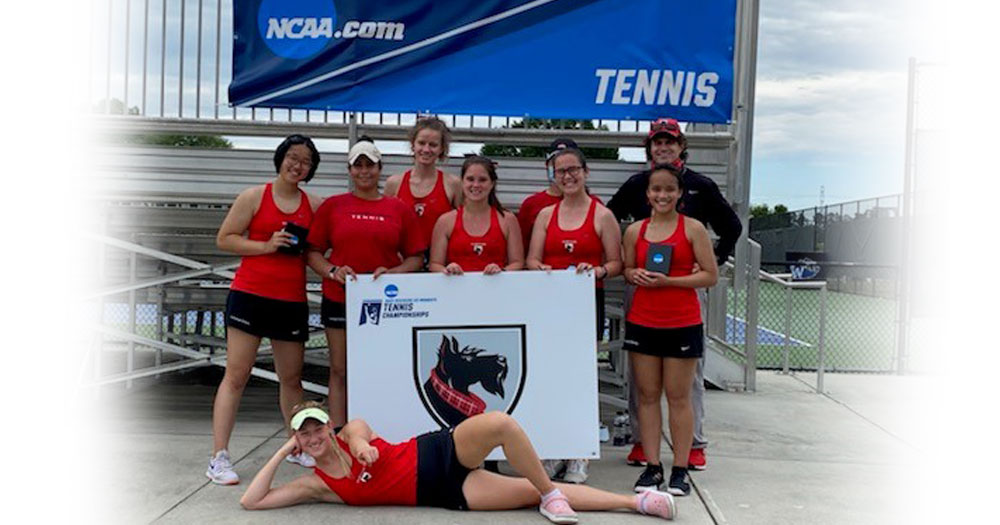 (ROCKY MOUNT, N.C.) - The Carnegie Mellon University women's tennis team dropped a tightly contested NCAA third round match against the University of Mary Washington, 5-3, on Sunday afternoon in Rocky Mount, North Carolina. The Tartans finish the season with a 13-3 record while the Eagles move on with a 14-2 record.
The Tartans held a 1-0 lead after the second doubles pair of freshman Farida Abdelmoneum (Portland, Ore. / K12 International Academy) and sophomore Megan Qiang (Cleveland, Ohio / Hathaway Brown School) won 8-6. The win marked the 11 of the year for the pair in 12 matches played. The Eagles won 8-3 at third doubles and then pulled out an 8-7 (8-6) win at first doubles against senior Alex Iordache (Princeton, N.J. / South Brunswick) and sophomore Ola Wojciak (Holmdel, N.J. / Holmdel) who moved up to first singles from their usual second singles position after an injury yesterday to junior Lindy Cornwall (Poway, Calif. / Poway).
Qiang continued her amazing first-year campaign with another singles victory in the fourth position to tie the match at 2-all. Her 6-0, 6-2 win against Amanda Hagino gave her a perfect 16-0 record for the season.
Abdelmoneum then gave the Tartans a brief lead with a 6-4, 6-4 win at second singles before the Eagles tied the match at 3-3 with a win at third singles. The victory for Abdelmoneum gave her an 8-3 record in singles play for the year.
Mary Washington was then able to win two close matches at sixth and fifth singles by 6-4, 6-4 and 6-3, 6-4 scores, respectively to that the match win.
"I could not be more proud of the way we handled all of the adversity we faced this season," said head coach Andrew Girard. "This group banded together, played their hearts out, and went down with guns blazing."