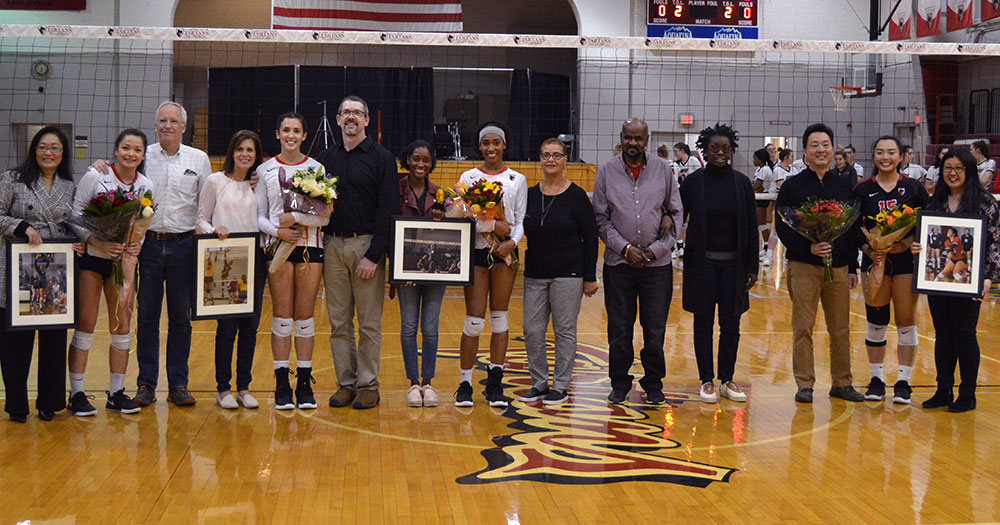 (PITTSBURGH, Pa.) - The 19th-ranked Carnegie Mellon University volleyball team closed its home schedule with two wins Saturday. The Tartans, now 21-5, first topped SUNY Geneseo 3-2, before defeating Ohio Wesleyan University 3-1.
In the match deciding fith set, the Tartans hit .588 and put down 11 kills to win 15-6. The Tartans also hit above .300 in the first and third sets, both sets which they won.
Sophomores Vivian Beaudoin (Washington, N.J. / Warren Hills) and Anna Cao (Princeton, N.J. / Princeton) led the offensive attack with career highs, both reaching double figures in kills. Beaudoin had 16 kills while Cao had 12 with a hitting percentage of .522 in three sets played. Senior Maia So-Holloway (Oakland, Calif. / Sacred Heart Cathedral) picked up a season-high 36 assists while senior Kayla Yew (San Francisco, Calif. / Sacred Heart Cathedral) had a season-high 36 digs.
Against Ohio Wesleyan, the Tartans won the first set 25-20 before falling 25-21 in the second set. The next two sets went to the Tartans by 26-24 and 25-13 scores.
Three Tartans recorded double-figure kills with senior Erika Foose (Allentown, Pa. / Parkland) leading with 12. Beaudoin and junior Diana Balta (Media, Pa. / Penncrest) had 11 kills apiece. At the net, sophomore Erin Westberg (Cary, N.C. / Cardinal Gibbons) had four block assists while Foose contributed three block assists. Freshman Stella Yan (Coppell, Texas / Coppell) led with 24 assists while So-Holloway had 20 assists. Yew collected a team-high 23 digs and is now three shy of being second all-time in the category with 2,238.
Next on the schedule for the Tartans is the University Athletic Association (UAA) Championships. The Tartans open the tournament as the four seed and face New York University on Friday, November 8 at 2:00 p.m.