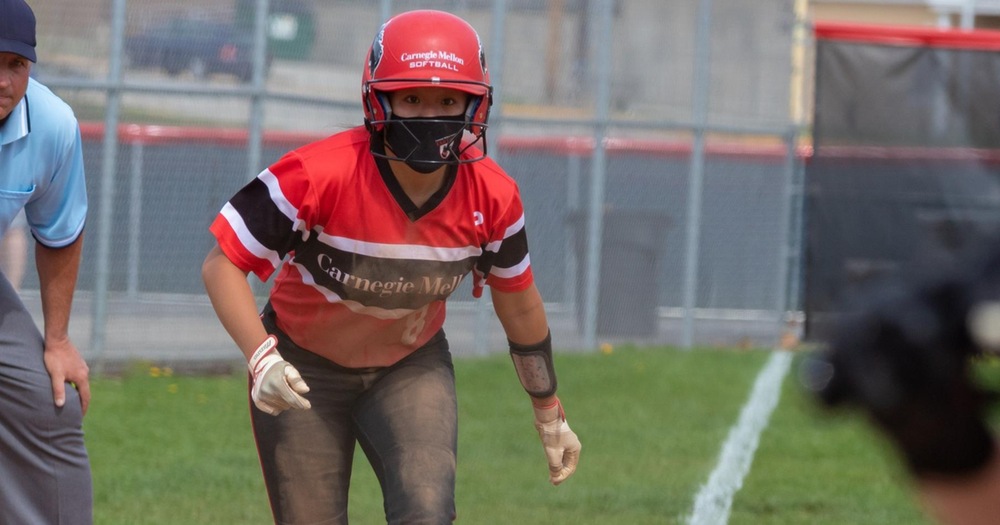 (OBERLIN, Ohio) - The Carnegie Mellon University softball team, who entered the regional rankings for the first time in program history at seventh in the central region, traveled to Oberlin College for a doubleheader which they swept by 5-0 and 4-3 scores. The Tartans are now 14-5-1 for the season while Oberlin falls to 2-6.
Game 1 - Tartans 5 Oberlin 0
Sophomore Piper Johnson (Riverside, Calif. / Martin Luther King) hit a double and a home run to record two RBIs in the game while sophomore Tessa Bruneau (Edgewater Park, N.J. / Holy Cross Prep) and junior Megan Hu (Katy, Texas / Seven Lakes) each had three hits in the game. Junior Scotty McGee (Huntington Beach, Calif. / Huntington Beach) moved to 6-0 for the year with eight strikeouts for her fourth shutout.
The Tartans scored twice in the first inning on an RBI single by Hu that plated freshman Kiera Boucher (Ridgewood, N.J. / Ridgewood) who reached on a double and on Johnson's first home run of the season. In the third inning, Johnson doubled in Hu while the Cardinal and Gray tacked on two more runs in the fourth inning. Sophomore Emily Finger (Aurora, Ill. / Metea Valley) singled with the bases loaded to score McGee who led off the inning with a single and junior Audrey Pederson (Bedford, N.H. / Bedford) scored on a wild pitch after reaching on a single in her at bat before Finger.
Game 2 - Tartans 4 Oberlin 3
In game two, Oberlin led 3-0 after four innings forcing the Tartans to come-from-behind. Carnegie Mellon would score three in the top of the sixth inning and then one in the seventh before holding the Yeowomen off in the bottom of the seventh for the team's fifth sweep of the season and fourth straight.
In the sixth, freshman Addy Sewack (Needham, Mass. / Noble and Greenough) pinch hit with the bases loaded and singled to score two before advancing to second on the play. Junior Emily Song (Mount Arlington, N.J. / Roxbury) then pinch hit and singled down the right field line to push Sewack across the plate for the tying run.
Freshman Amanda Smith (New Cumberland, Pa. / Trinity) had a three-up, three-down sixth inning with two strikeouts before Hu singled in Boucher with two outs for the go-ahead and eventual winning run. Smith again shutdown the Oberlin offense with three straight outs after surrendering a lead-off single to move to 5-3 for the season.
The Tartans are next scheduled to host Hiram College for two games on Wednesday, March 5 starting at 3:00 p.m.