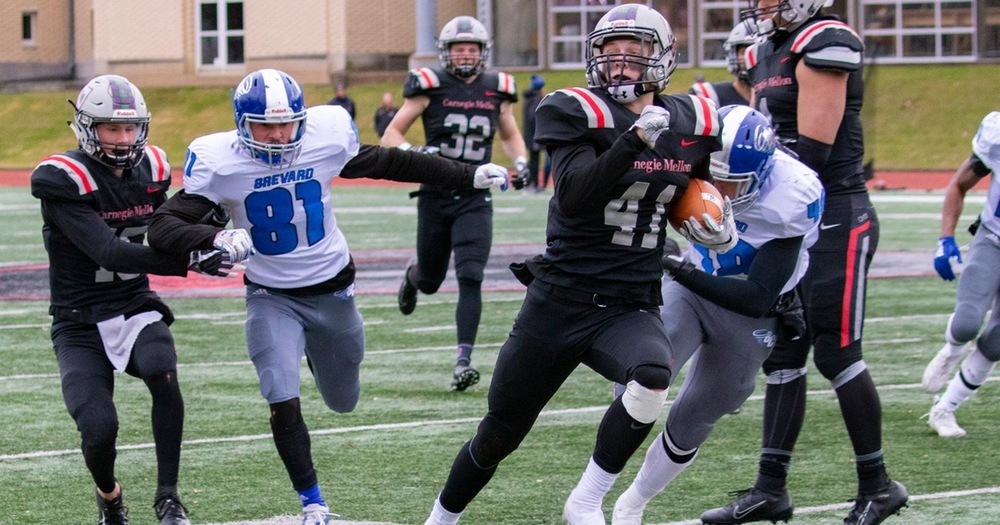 (PITTSBURGH, Pa.) – The Carnegie Mellon University football team hosted Brevard College in the 2019 Eastern College Athletic Conference (ECAC) Scotty Whitelaw Bowl on Saturday. The Tartans dropped a 42-28 contest to the Tornados.
Carnegie Mellon totaled 193 yards of total offense while Brevard finished the game with 390 yards, including 262 on the ground. Senior quarterback Matthew O'Hea (East Setauket, N.Y./Ward Melville), who entered the game early in the second quarter after junior JD Dayhuff (Westerville, Ohio/Olentangy Orange) was forced to exit with an injury, passed for a career-best 168 yards and two touchdowns. Junior Alec Oshita (Torrance, Calif./Mira Costa) led the Cardinal and Gray with four catches for 61 yards and a score.
Defensively, senior Thomas Polutchko (Southborough, Mass./Algonquin Regional) ended his time as a Tartan with a career-best 10 tackles and added a forced fumble. Senior Michael Lohmeier (Clarendon Hills, Ill./Hinsdale Central) recorded eight tackles with 4.0 tackles for a loss. Sophomore Sean Knight (New Canaan, Conn./New Canaan) tabbed his team leading fourth interception and added a forced fumble.
Brevard's Dalton Cole passed for 128 yards and a touchdown. Aaron Bennett led the Tornados ground attack with 136 yards on nine carries and a touchdown. Steffon Canady was named the ECAC Scotty Whitelaw Bowl Most Valuable Player after leading Brevard's defense with eight tackles, 4.0 sacks and 5.0 tackles for a loss.
Five minute into the game Brevard took a 7-0 lead, as Cole connected with Aaron Bennett on a 7-yard receptions. Carnegie Mellon made the score 7-3, as sophomore placekicker Brandon Nguyen (Maitland, Fla./Lake Highland Preparatory) connected on a 45-yard field goal with six minutes to play in the first quarter.
Before the first 15 minutes expired, Brevard pushed its lead to 14-3 when Rook Tate intercepted Dayhuff and took it 30 yards for the score.
Carnegie Mellon junior Mason Tolliver (Sylmar, Calif./Crespi) forced and recovered a fumble that led to the Tartans cutting the deficit back to four points at 14-10. Junior Luke Bikulege (Greer, S.C./St. Joseph's Catholic) scored on a 4-yard touchdown run with 11:41 to play in the half, that capped off the seven-play, 40-yard drive after the Tolliver recovery.
Midway through the second quarter, the Tornados Cortez Scales Jr. blocked a punt that was picked up at the Tartans' 1-yard line by Ralph Roman III and taken in for the touchdown. The score stood at 21-10 following the special teams play and stayed that way heading into halftime.
Carnegie Mellon started the second half putting together a nine-play, 53-yard drive that resulted in a 30-yard field goal by Nguyen that made the score 21-13. The Tornados wasted little time answering the Tartans. Their first play from scrimmage following the field goal, Bennett broke through the line and sprinted 81 yards for his lone touchdown making the score 28-13. Brevard pushed the lead to 35-13 with eight minute to play in the third when Cole hooked up with Jamerial Parks on a 35-yard catch-and-run.
On the Tartans ensuing possession, O'Hea and Oshita connected on an 18-yard touchdown passed that finished off an eight-play, 73-yard drive. O'Hea then found sophomore Kris Hughes (Springboro, Ohio/Springboro) in the back corned of the end zone on the 2-point conversion to leave the score at 35-21 with 6:17 on the clock. A 46-yard touchdown run by Brevard's Mitchell Yoder with 3:14 left made the score 42-21 at the end of the third quarter.
Carnegie Mellon closed the scoring when O'Hea found senior Jamie Greenwell (Celina, Texas/Mckinney Christian Academy) in the end zone on a 5-yard strike with 2:25 to play in the contest.
Carnegie Mellon ends its season with an overall record of 8-3 while Brevard closes its season at 8-2.