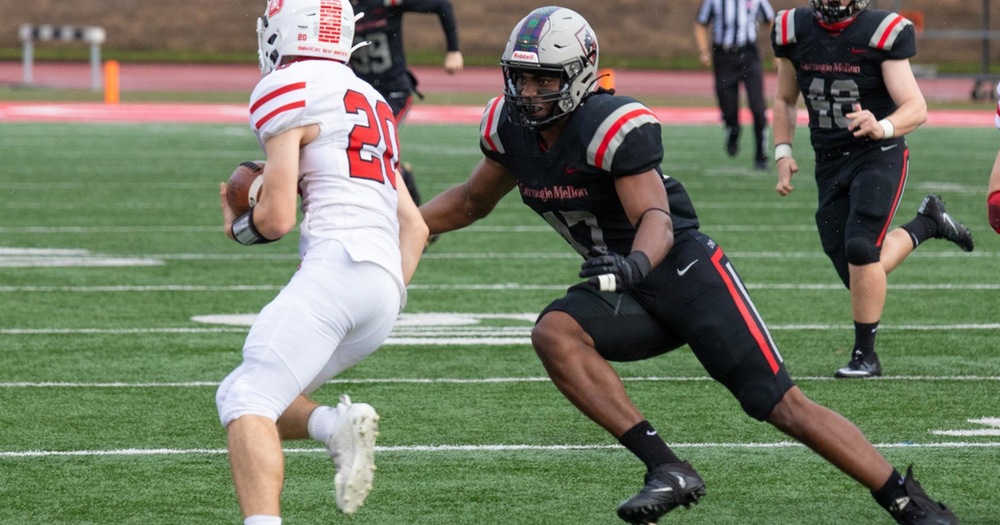 (PITTSBURGH, Pa.) – The Carnegie Mellon University football team traveled to Waynesburg University Thursday evening for a crossover Presidents' Athletic Association (PAC) contest and left with a 51-0 victory. The shutout for the Tartans was the first since 2015. The win evens the Tartans overall record at 1-1 while the Yellow Jackets are now. 0-2. Both teams remain 0-1 in the PAC as the game doesn't count towards the conference standings.
The victory marked head coach Rich Lackner's 225th at the helm, as he moved into a tie for third most among active head coaches in Division III.
Carnegie Mellon held the Yellow Jackets to 81 yards of total offense including only five yards rushing. It marked the lowest total yards allowed since 2016 when the Tartans held Geneva to 102 yards. The five yards allowed rushing is the lowest allowed on the ground for the Tartans since holding Grove City to five yards rushing in 2007.
The Tartans finished with 455 yards of offense, with 227 coming by way of the ground. Senior Luke Bikulege (Greer, S.C./St. Joseph's Catholic) led the Tartans ground attack with 92 yards on 14 carries and two touchdowns. Sophomore Ryan Shaw (Emerson, N.J./Emerson) ran for a career-high 91 yards on 15 carries. Freshman quarterback Ben Mills (The Woodland, Texas/Woodlands), making his first career start, threw for 156 yards and three touchdowns.
Juniors Ben Armbrester (Grand Rapids, Mich./Forest Hills Eastern) and Michael Uribe (Canyon Country, Calif./William S Hart) both recorded career-highs in receiving yards. Armbrester had five catches for 117 yards and two touchdowns while Uribe had three catches for 52 yards.
Classmate Kris Hughes (Springboro, Ohio/Springboro) recorded two touchdown receptions and finished the game with 22 yards on two catches. Hughes now has 12 career touchdown catches and is tied for eighth most for a career.
Junior Sean Knight (New Canaan, Conn./New Canaan) ended the game with two interceptions. It marked the second time in Knight's career that he had multiple interceptions in a game. Last season, the junior recorded two in the Tartans win over Case Western Reserve University. He now has nine picks for his career which is tied for eighth most in program history.
Freshman Tommy Coury (Phillipsburg N.J./Phillipsburg) was the Tartans top tackler with seven, five solo. Junior Jack Koscho (Sarasota, Fla./Cardinal Mooney) ended with six tackles while junior Jake Cerwin (Gurnee, Ill./Carmel Catholic) and freshman Bobby Coury (Phillipsburg N.J./Phillipsburg) each tabbed five. The Tartans had eight tackles for a loss with junior Noah Castor (Ewing, N.J./Ewing) leading the Cardinal and Gray with 1.5 tackles for a loss.
With 7:03 to play in the first quarter, Castor and sophomore Ben Coyne (McDonald, Pa./South Fayette) took down Yellow Jacket quarterback Tyler Raines in the end zone for a safety to make the score 2-0. The safety was setup following a 42-yard punt by sophomore punter Casey Jaeb (San Jose, Calif./Bellarmine Prep) that pinned Waynesburg on its own 3-yard line.
On the ensuing Tartan possession, Bikulege made the score 9-0 on a 2-yard run. The score capped off a five-play, 40-yard drive. Following a fake punt on Waynesburg's next possession that was stopped by Carnegie Mellon, the Tartans took over on the Yellow Jackets 34-yard line. Five plays later, Mills found Hughes on a 14-yard touchdown strike to push the score to 16-0 as the first quarter came to a close.
Sophomore Aryan Hegde (Brambleton, Va./Rock Ridge) intercepted Raines on the first play of the second quarter off a deflection by sophomore Kevin Arcia (Doral, Fla./Doral Academy Charter). Hegde's return plus an added personal foul penalty for a late hit gave the Tartans the ball on the Yellow Jackets 9-yard line. Mills then hooked up with Hughes three plays later on an 8-yard touchdown strike to make the score 23-0 with 13:18 to play in the half.
The first play of Waynesburg's next drive, Knight picked off Raines, On the very next play, Mills tossed his third touchdown and second in 20 seconds. This time the signal caller found Armbrester for a 41-yard score. The extra point left the scoreboard showing 30-0.
On the second play of the second half, Bikulege sprinted 54 yards untouched for his second score of the game. The point after expanded the Tartans lead to 37-0.
Waynesburg fourth turnover of the game led to another Carnegie Mellon score. A play following a fumble recovery by Coyne, sophomore Jack Fierro (Alamitos, Calif./Orange Lutheran) tossed his first career touchdown as he found Armbrester for a 43-yard catch-and-run that made the score 44-0.
Freshman Tre Vasiliadis (Great Falls, Va./Langley) added a 3-yard touchdown run with 6:20 to play to end the scoring.
Carnegie Mellon will host Geneva College on Friday, April 9 at Gesling Stadium. Kick is slated for 6:00 p.m.