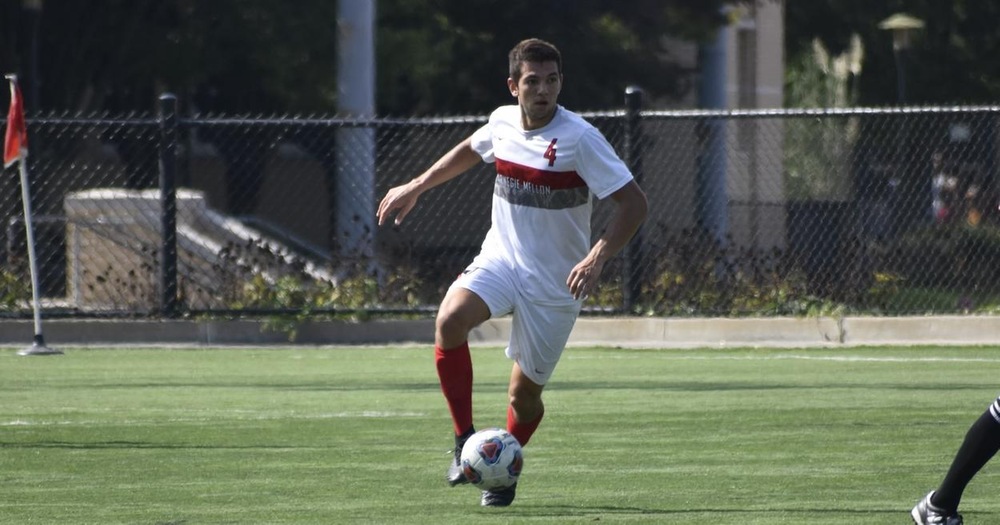 (NEW YORK, N.Y.) – The 13th-ranked Carnegie Mellon University men's soccer team opened the University Athletic Association (UAA) season with a 1-0 win at New York University. The Tartans are now 7-0-2 for the season while NYU falls to 7-2.
Junior Cooper Tubiana (Montclair, N.J./Montclair) put in the game winner in the 59th minute when he fired a shot from the top of the box to the corner netting for his second goal of the season. Senior defender Jack McCambridge (Bethlehem, Pa./Moravian Academy) was credited with the assist on the play.
Although the Tartans registered seven shots in the first period, both keepers made two saves to keep the game scoreless through the first 45 minutes.
Following Tubiana's goal in the second period, sophomore Jordi Long (Silver Spring, Md./Montgomery Blair) put a shot on goal and senior Mike Lin (San Diego, Calif./Canyon Crest Academy) fired a shot that was stopped by Grant Engel in goal for the Violets.
Senior Alec Lam (Upper Saddle River, N.J./Northern Highlands Regional) recorded two saves in goal for the Tartans, improving his record to third win of the season.
The Tartans will next travel to Penn State Behrend for a non-conference match against the Lions on Tuesday, October 2.