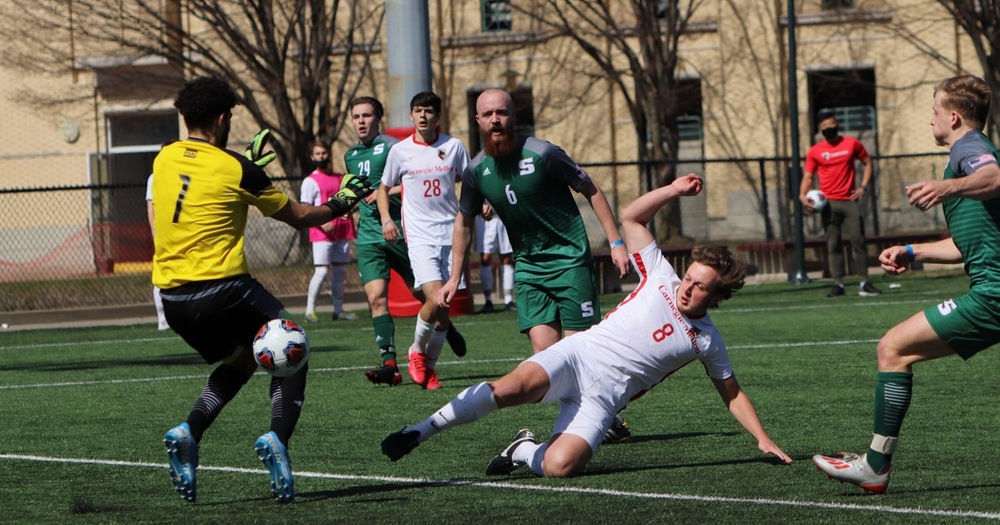 (PITTSBURGH, Pa.) - The Carnegie Mellon University men's soccer team enjoyed a day in the sun with a 2-0 victory against Division II Slippery Rock University on Sunday, March 21. With the victory, the Tartans move to 2-0 for the season.
Junior Ethan Kalis (Riverwoods, Ill. / Adlai E. Stevenson) started in goal for the Tartans and made two saves in the first 31 minutes and 24 seconds. He was replaced by senior Alex Singh (Golden, Colo. / Lakewood) just before the Tartans scored their first goal at 31:43. The goal came off the foot of senior Jordi Long (Silver Spring, Md. / Montgomery Blair) who crashed the net as freshman Luke Marolda (West Windsor, N.J. / The Peddie School ) jumped high over a defender and flicked a header forward inside the six-yard box.
The Tartans had six shots to four for The Rock in the first period.
A second goal for the Tartans came in the 61st minute when junior Jason Edmunds (Libertyville, Ill. / Libertyville) beat the defense to a pass sent wide to the corner by Long. Edmunds crossed the ball into the six where freshman Ethan Vertal (Herndon, Va. / Oakton) ran through the defense and beat the keeper to it for the finish.
The Tartans also had the better run of play in the second half with five corner kicks and nine total shots.
In the 76th minute, Harry Griffin took a free kick just outside the 18-yard box but his shot on goal was stopped by freshman Stefan Sorobay (New York, N.Y. / Stuyvesant).
Sophomore Josh Baugh (Boynton Beach, Fla. / Boca Prep) nearly made the score 3-0 in the 82nd minute but his header on frame was grabbed out of the air by Rock keeper Josh Howells.
The Tartans will next host Point Park University on Wednesday, March 31 at 5:30 p.m.