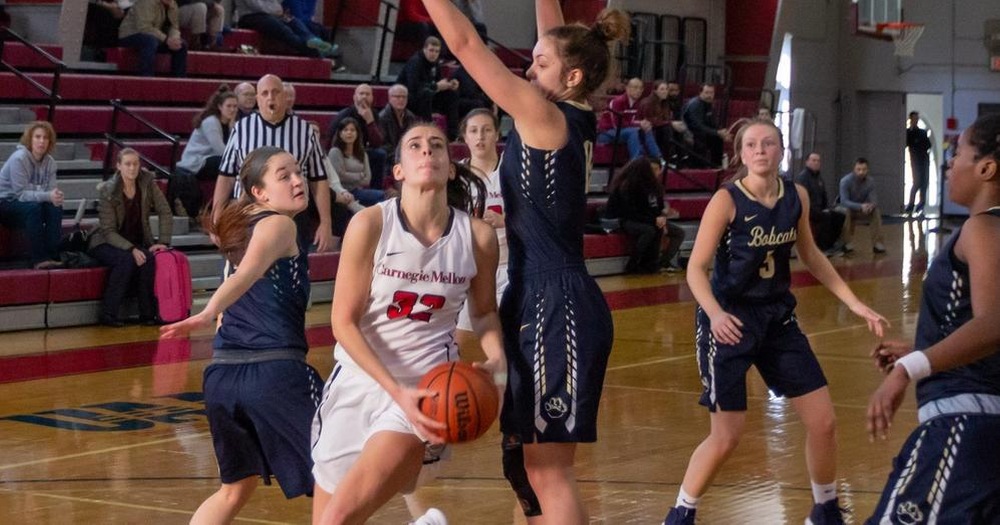 (PITTSBURGH, Pa.) - The Carnegie Mellon University women's basketball team returned to action after a 10-day break following final exams to take on the University of Pittsburgh at Greensburg at home Tuesday. A six-point halftime lead led to a 76-64 victory and now an 8-1 record.
The Tartans shot 51.6% from the floor, their second-highest showing of the season, with freshman forward Caitlyn Clendenin (Bethesda, Md. / Bethesda Chevy Chase) leading the team with 18 points. Junior guard Laurel Pereira (Naperville, Ill. / Naperville North), junior forward Katie Higgins (Montclair, N.J. / Montclair), and freshman guard Emily Archer (Chatham, N.J. / Oak Knoll) each poured in 10 points to follow Clendenin. On the glass, Clendenin led with six boards while junior forward Cameron Pitts (Frederick, Md. / Oakdale) and junior guard Megan Jaeb (San Jose, Calif. / Presentation) each pulled down five boards. Clendenin was also impressive on defense with a career-high five steals and a career-tying two blocks.
The first quarter was back-and-forth before Higgins hit a three-pointer to give the Tartans a 13-11 lead with 3:10 to play. That two-point advantaged stuck around as the Tartans led 18-14 at the first break.
Three minutes and 30 seconds into the second quarter the Tartans pushed their lead to 11 with a 12-5 run behind 10 points by Clendenin, including eight straight. Later in the quarter, Archer made a layup to make the score 40-28 before Pitt-Greensburg cut the lead to six with three free throws and a three-pointer over the final two minutes.
The Tartans hit their first three shots of the second half, including back-to-back three pointers by Higgins and freshman Leah Weslock (Howell, Mich. / Howell) to lead 48-38. With nearly half the period over, the Tartans took their largest lead of the contest at 14 points on a Weslock jumper. Weslock led the Tartans with seven points in the frame.
Pitt-Greensburg was led by Nadege Durand's 24 points and 13 rebounds while Colleen Murphy had 18 points and Maddie Sitler scored 14 points.
The Tartans will next travel to Capital University for the Capital/Mariott Christmas Tournament on Friday, December 28 and Saturday, December 29. Carnegie Mellon will open against the College of Wooster at 5:00 p.m.