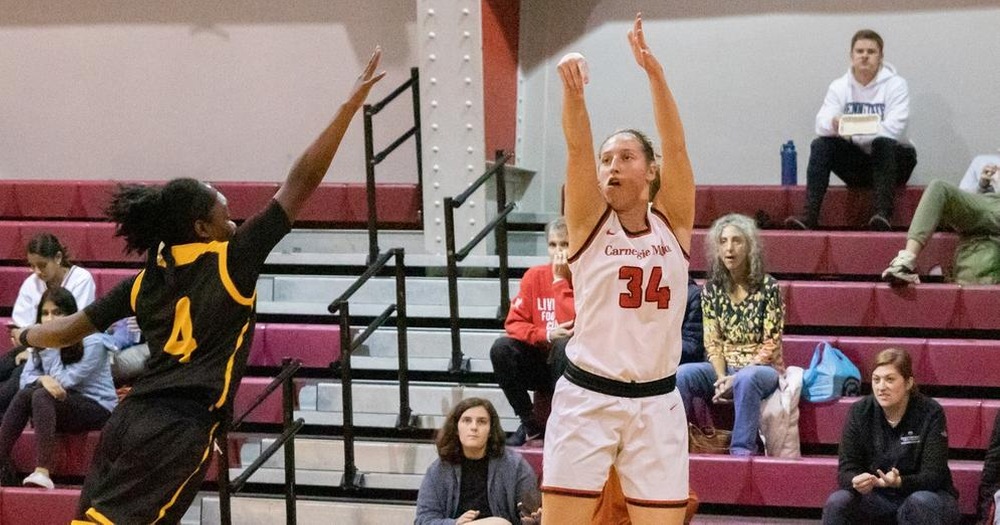 (MARIETTA, Ohio) - The Carnegie Mellon University women's basketball team defeated Marietta College, 81-66, in the championship game of the Pioneers Jim Meagle Holiday Tournament sponsored by BSN Sports on Monday, December 30. Sophomore Leah Weslock (Howell, Mich. / Howell) was named the Lisa Wagner MVP after scoring a career-high 28 points on 12-of-18 shooting with seven rebounds, three steals, two assists and a blocked shot in the victory.
Three other Tartans scored in double figures for the Tartans who are now 7-4 for the season. Senior Katie Higgins (Montclair, N.J. / Montclair) poured in a season-best 17 points while senior Makayla Filiere (Chandler, Ariz. / Hamilton) and sophomore Caitlyn Clendenin (Bethesda, Md. / Bethesda Chevy Chase) each scored 12 points. Clendenin shared the team lead in rebounds with seven and along with Filiere dished out four assists.
For the second straight game the Tartans recorded a season-low in turnovers with nine while causing the Pioneers to cough it up 23 times.
Three-point shooting was another difference in the game, as the Tartans connected on 7-of-16 attempts and the Pioneers made just one of 15.
A quick start by the Tartans where they made five or their first six shots put the visitors ahead 14-4 just four minutes into the game. The Pioneers held a 4-2 lead but didn't score their sixth point until 4:38 to go in the period and then the Tartans held them scoreless the remainder of the way to lead 21-6 at the first-quarter break. Higgins scored eight of her points in the period.
Marietta stormed back in the second period and held a 34-33 halftime lead, as the Tartans committed five of their turnovers during that 10-minute span while making just 5-of-20 shots from the floor.
The third quarter belonged to Weslock as she was 5-of-6 from the floor including 2-of-2 from long range with a made free throw on her way to outscoring the Pioneers in the frame with 13 points.
The teams played even in the fourth quarter, as the Pioneers could only pull within 10 points and the Tartans went on for the 15-point win. Filiere was also named to the all-tournament team.
Next up for the Tartans is University Athletic Association (UAA) play beginning on the road at Case Western Reserve University on Saturday, January 11 at 2:00 p.m.